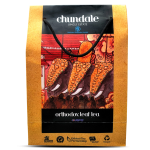 Harrisons estates at Wayanad have a legacy of over 100 years of tea growing. This orthodox tea is a timeless classic. Produced in the scenic 262 hectare Chundale estate since decades, the qualities of this tea have stood the test time due to unequivocal appeal to the tea drinkers. The subtle multi-layered flavour of this orthodox tea can make "a cup of Chundale" an experience which gets you back here again and again!
Type : Single Estate | Origin : Aromatic Nilgiris, Wayanad, Altitude of 2200 ft. ASL
Suggested pairings |  With mint, lemon & sugar/honey | A spot of milk & sugar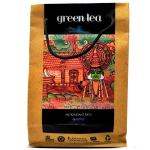 Green Tea
The leaves are heated before they are rolled in a machine & dried. Mainly known for its health benefits, green helps in increasing the metabolism & digestion, reduces the risk of heart diseases and improves artery function.
 The Taster's Note 
Very high catichens & polyphenols | Very mild flavour with touch of biscuit malty note
 Type : Single Estate | Origin : Aromatic Nilgiris, Wayanad, Altitude of 2200 ft. ASL
Suggested pairings | Any citrus mint & honey | Never to be drunk with milk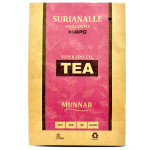 Grown at an elevation of 5000 ft. above MSL, the estate offers the ideal climate for a tea rich in aroma and taste. Surianalle tea generates a magical blend of bright brisk Coloury liquor with a whiff of citrusy overtones. Crush, Tear & curl process of manufacturing produces fine granular leaf particle
Type : Single Estate | Origin : Fragrant High Range, Munnar- Altitude of 5700 ft. ASL
Suggested pairings | With milk & sugar | Black with extra water, lime & sugar
Harrisons Gourmet Tea & Spices Gifts Collection
Harrisons Malayalam Plantations is South India's second largest producer of tea. With over 100 years of plantation heritage, it is home to some of the world's finest tea and exquisite spices grown at its plantations at Munnar, Wayanad, Nilgiris. We have a range of single/blended tea in leaf and tea bags. A variety of options like Organic Tea, Lemon Tea, Black Tea, Masala Tea, Ginger Tea, White tea marketed under Harrisons brand. Besides the aroma and freshness, they also provide health benefits. We also have whole spice packs of Cardamom , Cinnamon, Clove & Pepper in attractive packaging that can be used to gift your favorite employee or customer in the festive season or for any corporate gifting. We also have custom packaging solutions based on volume requirement.